• Home

• Aircraft
Airbus A340
Boeing 747-400
Boeing 747-300
Boeing 747-200
Boeing 747-200F
Boeing 747SP
Douglas DC10-30
Douglas DC8
Good Old Planes
Registrations
• History
UTA's, TAI's, UAT's Early Days
UTA FRENCH AIRLINE
Merge with Air France
UTA today
AEROMARITIME
Cities by UTA
UTA and Paris(CDG) Airport
UTA Documents
• Accidents
1963-1992
N'djaména(DC8)
DC10 Crash
• UTA Collectors
Safety Cards
Timetables
Menus
Brochures
In-Flight Magazine (Distance)
Routes of UTA
• Downloads
UTA and Flight Simulator
• About this Site
Forum UTA
Discussions about UTA
News about the site
Last Update
Links
ADD YOURPHOTO
Copyright
About the site
Special thanx!!!
• Sondages
• Links
About UTA French Airline Site Web
UTA FRENCH AIRLINE
---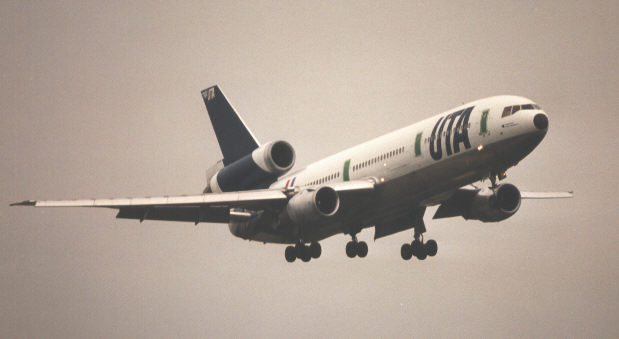 N54649 after merge with Air France
Why not help us to get more people to discover our site ? Put our image on your homepage or put the link http://www.chez.com/utawebfan/ , don't forget to talk about our site with your friends ! ! !
---
---
Copyright © 1999-2001 Philippe Gindrat - Tous droits réservés. Toutes les photos de ce site sont copyright par les photographes. Pictures and other multimedia from this site are copyright of their respected authors.